Registration for all Classes in Open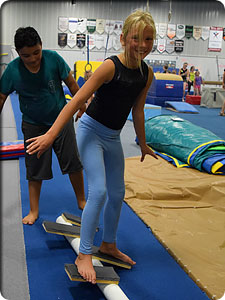 SGA Ninjas is for children four years old and up. Ninja is an obstacle course-based class that teaches movement through obstacles and environments with speed, style, and stealth, using a combination of rolls, jumps, dives, and flips to escape and dodge. Obstacle courses are based off the hit TV show American Ninja Warrior.
Mission Objective:
Our Ninja program mission is to build happy, healthy, and confident children while creating avenues of success through Ninja and gymnastics. Our classes are designed to encourage the development of self-confidence, strength, agility, and focus. Along with the physical benefits, the Ninja program also provides an opportunity to focus on positive social and character skills.